In this issue ( January 2022 )
◉ ईश्वरीय अंश विकसित कर यहीं ईश्वरतुल्य हो जाओ
◉ सूर्यदेव ने कार्तिकजी का पूजन रोककर पहले किनको पूजा ?
◉ आप कहते हैं... * आशारामजी बापू जेल में नहीं हैं, हमारी संस्कृति की रक्षा-प्रणाली जेल में है - श्री धनंजय देसाई
◉ विद्यार्थी संस्कार * बुद्धि का विकास और नाश कैसे होता है ?
◉ रामायण * मन के द्वन्द्व का समाधान क्यों और किनसे करें ?
◉ संस्कृति विज्ञान * परिक्रमा क्यों ?
◉ ...ऐसा निःस्वार्थ सेवाभाव महान बना देता है
◉ शरीर स्वास्थ्य * स्वस्थ जीवन व ध्यान-भजन में उन्नति हेतु
◉ शरीर को स्वच्छ व पुष्ट करनेवाला गेहूँ का चोकर
◉ कलह, धन-हानि व रोग-बाधा से परेशान हों तो...
Read More..
Rishi Prasad: A priceless treasure for your library
Started in 1990, Rishi Prasad has now become the largest circulated spiritual monthly publication in the world with more than 10 million readers. The magazine is a digest of all thought provoking latest & former discourses of Sant Asharamji Bapu on various subjects directing simple solutions for a peaceful life.
The magazine also features news on happenings at various ashrams in past month, inspirational texts from scriptures/legends, practical tips for healthy day-to-day living balancing materialism by idealism, Bapuji's answers to questions raised by seekers, disciples's experiences etc.
Read More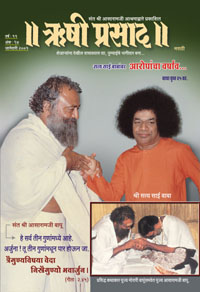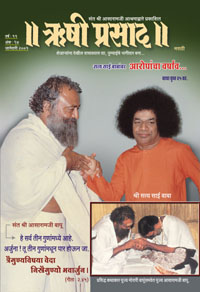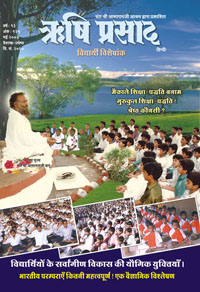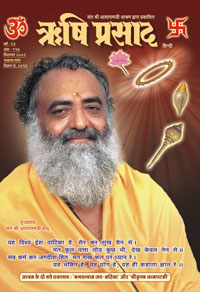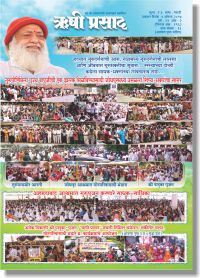 Sant Shri Asharamji Bapu
"Great Souls have a sympathetic heart as magnanimous and forgiving as that of a Mother giving shelter and love to all regardless of race, religion, or financial stature."
For the last 50 years the effulgent spiritual wealth of India, Sant Shri AsharamJi (endearingly called 'Bapu') has been travelling across the length and breadth of India imparting spiritual knowledge to awaken the masses.
Sant Asharamji Bapu's life is a source of inspiration to millions. The number of Sant Asharamji Bapu's disciples is in millions across national and international boundaries.
Know More
Rishi Prasad HighLights
Highlights contains glimpses of various articles. For full articles please take membership. Highlights are available in PDF (adobe reader) format.
Rishi Darshan (A high quality Video Magazine)