| | |
| --- | --- |
| | Member Login |

Subscribers:


Lok Kalyan Setu
Subscribe Now.....

Read AnyWhere
Know More......
Now subscription type can be changed from Hard-Copy to E-Magazine. Offline Subscribers can also take benefit of this facility
Change Now..
E-Magazine
Benefits of E-Magazine :

* Saves Paper Saves Trees
* Available much before hard copy
* Accessible anywhere anytime
* Pictorial Description
* Coloured version .....
More Benefits..
Tougher rape law leading to increase in false cases
Legal Experts Point To Growing Misuse

- Sana Shakil TNN - New Delhi:

Fears have been expressed that strengthening of the law against sexual offences after the Nirbhaya case has also led to an increase in false cases. Now, there's some evidence to support this claim. Statistics on the disposal of rape cases in Delhi's trial courts show a sharp increase in acquittals after the infamous December 16, 2012, gang rape. While in 2012, the acquittal rate in rape cases was 46%, in the first eight months of 2013 (for which exact figures are available) it shot up to 75%. Sources said acquittals remain high this year as well, accounting for around 70% of the cases.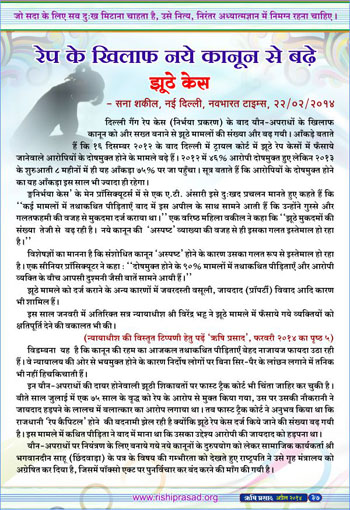 Click on above Image to Zoom
"This is an unfortunate trend. In many cases, women come up with the plea that they had registered the case out of anger and due to misunderstanding," said additional public prosecutor A T Ansari, one of the main prosecutors in the Nirbhaya case. A senior woman lawyer, who did not wish to be named, said, "It's sad but true. Registration of false cases is rampant and hence, the alarming acquittal rate. The new law is being misused because of the widened definition of rape." Experts feel the amended law is "widely-worded" and "ambiguous" in parts and lends itself to misuse. "In around 90% of acquittal cases, the victim turns hostile. Mostly, it turns out to be a case of a relationship gone bad. The sex is consensual but the victim claims the consent was given on account of promise of marriage," said a senior public prosecutor. Other reasons for registering false cases seem to range from extortion, recovery of dues, property disputes and extra-marital affairs.
Click on above Image to Zoom
In January this year, additional sessions judge Virender Bhat expressed the need for empowering courts to order compensation for persons who get implicated in false cases. (Note: please read Rishi Prasad February 2014 page no. 5 for detailed commentary by the judge). Ironically some so called victims misuse the strengthened law for their selfish gains. They do not have fear of the court; hence they do not hesitate at all in leveling baseless allegation against innocent persons. Even fast-track courts trying cases of sexual offences have been raising concerns. In July last year, while acquitting a 75-year-old man of the charges of raping his maid, a fast track court said the capital has earned the notoriety of India's 'Rape Capital' because of the increase in false rape cases. The complainant had admitted she registered the case to usurp the accuser's property. A social activist Bhagwandin Sahoo has expressed concern over the abuse of the strengthening of the law against sexual offences. Looking at the gravity of the issue addressed in the letter in which he had demanded POCSO laws to be reconsidered for closure, the President has forwarded it to the Home Ministry.